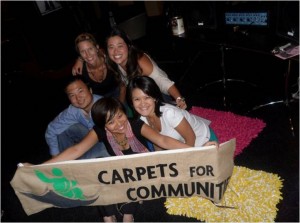 CfC has been built on large group of passionate and driven volunteers. Without the tireless hours they have put into the organisation our families and CfC would not be in the position they are right now.
These are some of the main benefits that our volunteers recognize in CfC:
"You get to learn lots about yourself and others, grow your networks and skills, make a difference to people in the world who really need it."
"It's an exciting and uniting place were people can find themselves as an important part of something that has a good impact in our world!"
"The feeling of community – our volunteers get along really well and volunteering at a market is likened to having a great chat with great people whilst making a difference to the less fortunate."
"Getting kids back in school, empowering mothers, good development principles, a legit organisation that works hard and is run by volunteers, that have fun together and are committed and passionate about the organisation. Lovely rugs!"
We are continually looking for new volunteers to support us run market stalls, operations, events, communications and a multitude of various roles where your skills could help us increase our impact. If there is something you feel you can contribute to our organisation please let us know!
We are currently present in:
QLD – Brisbane
NSW – Sydney
VIC – Melbourne
SA – Adelaide
WA – Perth
NT – Alice Springs
ACT
TAS
If you live somewhere where we don't have a market stall and you'd like to help set one up we'd love to hear form you.
Interested in Volunteering?
Visit our job postings here or email volunteer@carpetsforcommunities.org