Meet Don – Our Melbourne Banquet Dinner Volunteer
"I come from China and have been in Australia studying and working for about three years. I really love this beautiful country. Maybe because I grew and lived in a less developed country, I can clear feel there are still many people suffering from poverty and civil conflict. So when Ashley was offering me a chance to join CfC's fundraising team, I felt so pleased and said yes with alacrity.This fundraising activity is, first of all, helpful for needy families in Cambodian and also entertaining for our fundraising team. Moreover, especially for me, it is definitely an enlightening and memorable experience as I learnt a lot and got so much support from many lovely Australian people: Amy, Katerina, Kim, Mel, Susan and so on. Volunteering in CfC  is definitely rewarding in many ways.
By organising this fantastic fundraising activity, we try to break the poverty cycle in Cambodian; more importantly, we are building the cycle of happiness. Similar success has been happened in my hometown. China is used to be a poverty-stricken country; however, nowadays more and more Chinese are really to offer help to others. Therefore I really feel that if everyone could exhibit greater concern and love for our fellowmen in other parts of the world, the world will become so hopeful."
Meet Bel – Our Chapter President in NSW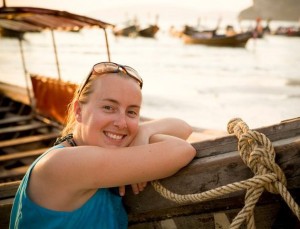 I am a 25 year old young professional working for Deloitte full time and managing the NSW chapter of Carpets for Communities on the side. I live to travel and explore the world, and recently travelled to Cambodia to meet the women in the program! I have a fabulous boyfriend who is a photographer and live by the beach on the Northern Beaches of Sydney – so I love the water in summer!
How did you findout about CfC and what motivated you to join? - I met the Founder, Dave Bacon about 3 years go and he was so inspiring and I loved the story so much that I decided to get involved. I love the stories of the women and the idea that we are empowering them to lift themselves out of poverty rather than relying on handouts.
What is your role in CfC and major achievements you had? - My role started out as just attending Paddington Markets once a month to sell some carpets with my boyfriend. But it grew quite quickly to managing multiple markets a month, bringing on retailers, online sales, a fundraising arm and managing a team of 25 volunteers. My major achievement is generally coordinating the Fair Trade Fortnight which happens every month and generally has 3 or 4 major markets occurring over the same weekend – lots of logistics to coordinate peopleand stock, but very rewarding when its all over and we've had huge sales.
How did this role benefit you? - The role has given me a huge amount of experience in managing a team, time management, finance management etc. Effectively everything required to manage a small business, because that's what it is. I have made a tonne of friends, some of whom have moved on from CfC and I still keep in touch with, and it has been a huge asset on my resume!
I would recommend the Chapter President role to anyone who is interested in meeting a lot of new people, having a lot of fun at some of the best markets in Sydney, and who is good at juggling a few things at once. The team is fantastic and will welcome you with open arms, and I promise you will fall in love with the story of CfC just as much as I did!