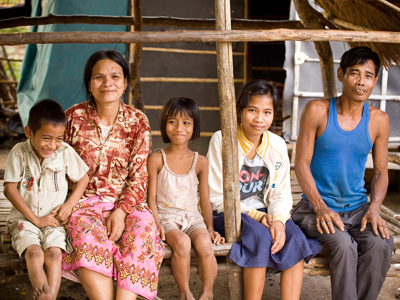 Seng Sean joined CfC in 2008. She has five children and four attend school. The fifth child is more than 15 years old and no longer attends. Before she joined CfC, Seng San earned $64.50 per month. While making carpets, her average income was $120 per month. Her husband collected wood to sell and earns about $1.44 per day to supplement their income. Although this did not cover their costs every month, they have no outstanding loans.
Seng Sean started 2 businesses' with the support of her husband. Seng Sean sells grilled beef locally, which is a cheap and favourite local snack. The second business is conducted by her husband: he runs a motor-taxi business that not only provides a significant income for the family (approximately $115 p/month) but allows him to better support his family by having an efficient form of transportation since their village is far from the town of Poipet, and thus support the beef selling business.
Seng San feels 100% confident that she can feed her children and prevent them from further sickness. Her life has definitely improved since joining CfC. In the past, due to her poor health, she normally stayed at home and did nothing. Now she can earn an income at home making carpets and with an efficient business of her own, her children can have an education, and she has the funds to pay for the family's needed medication.