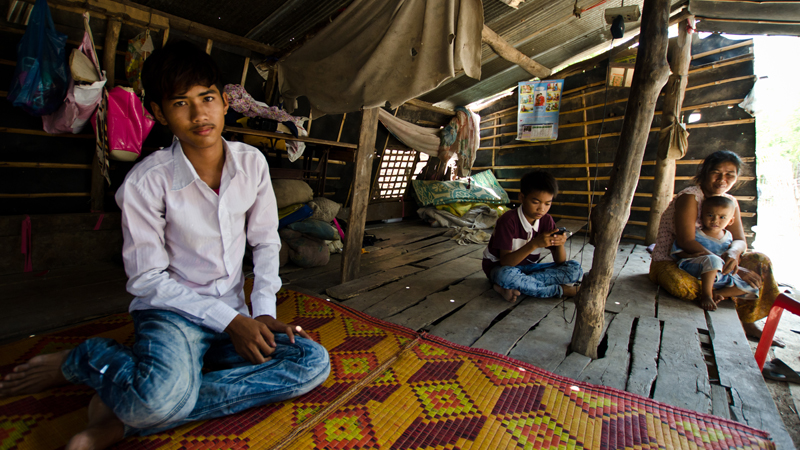 Hing Vuthy is a 21-year old who studies Medical Laboratory in Phnom Penh. He has just started his first year of studies;
Hing Vuthy graduated from high school in July 2012. He was always a hardworking student and took school very serious. In the school holidays Vuthy would join us at the CfC office and help with packing and cleaning carpets. With the money he earned from this work, Vuthy saved for new clothes and school books.
When Vuthy expressed his interest in going to University, we were happy to offer him the opportunity to join our scholarship program.
Vuthy is now attending university at Chean La University in Phnom Penh and studying a major in medical laboratory like his older brother Hing Premprey. It will be quite a change for Vuthy, who is leaving his hometown, and his 7 siblings, for the first time.
However, we have good hopes for Vuthy's future. In Phnom Penh he will join a house with 4 other university students. With also his brother looking after him, we are confident that he will feel at home soon. Sharing a house with friends and with the idea of cooking together, Vuthy aims to keep his living costs low.
Vuthy told us that he chose to study medical laboratory because he would love to become a doctor. He believes that the standard of healthcare in Cambodia is still very low, and we agree with him. Vuthy also mentioned that when he becomes a doctor, he wants to keep supporting his community. The families he grew up with are very poor and most can not afford to visit a doctor when sick. He is looking forward to use his knowledge and skills to help these people.
Vuthy has started university on the 1st November. He is very excited for what is to come and has an open mind. Not only he is looking forward to university, he is also excited to learn the life of the city and to meet new people and extend his network.
Hing Vuthy is fully sponsored for his coming years of study. Interested in sponsoring one of our scholarship students? Please consider supporting Hing's brother Premprey for his remaining years in University.
Sponsors
Hing Vuthy is fully supported by The Rotary Club of Boronia District 9810
Extra support is provided by Trinity Grammar School, Kew