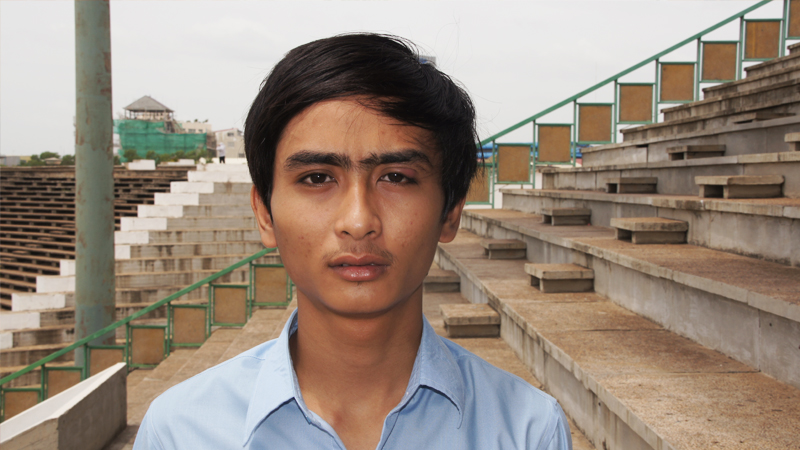 Hourt Pesith is a 22 year old student who dreamed of starting his own business by teaching computer courses and selling computers. Starting off with studying IT, he has now switched his major to Graphic Design.
–
Choosing your University major is not easy. It is an important decision which has to be made at a young age. Sometimes, this decision proves to be not the best option after some practice. Hout Pesith discovered after one year of studying IT, that this major did not match his skills and interests.
In particular, he struggled with the theoretical subjects and did not enjoy this part. After having discussed it for a long time, we have supported Pesith to change his major and to switch to studying graphic design at the C Tech University. As it is a more hand-on and practical study, we have confidence that Pesith has found the right place for himself. Although he has to start again from year one, he will be able to finish the major in 3.5 years.
Although Pesith was struggling with his study last year, he greatly enjoyed his volunteer work with the Rotaract. This youth division of Rotary was set up by ACE and works towards improving the living standards of disadvantaged people. Pesith joined the Rotaract together with Premprey, our other scholarship student, and they have been saving some of their own money to invest in development projects.
Although the financial budget of the Rotaract is very small, they have been able to do two projects last year. One project dealt with farming and saw Pesith and Premprey travel to Kondal province to teach farmers how to grow vegetables and raise animals more effectively. The other project dealt with improving health care in the Ou Dong province.
Besides his volunteer work with Rotaract, Pesith has been helping out at the ACE center, where he has used his computer skills to train other residents in computer literacy and help out with other computer trainings.
As Pesith is helping ACE, ACE is also helping Pesith. Regular English and IT lessons have greatly improved his language and computer skills.
Pesith has 3,5 years left to study. To be able to continue our support we are looking for sponsors to support Pesith through his coming years and to cover a total of $1600 p/year. This money includes his tuition fee, basic living costs, and other study costs such as books and materials. Please consider becoming Pesith official sponsor, starting from $35 a month.
This sponsorship comes with an official recognition in the form of a signed sponsorship certificate and the opportunity to place you name or companies logo on this page. Additionally, you'll receive half year updates on Pesiths' progress in University.