What is Micro Enterprising?
Micro enterprising is the means by which we empower and sustainable enhance the well being of individuals and communities in Poipet, Cambodia. For us, micro enterprising means giving people more resources than they would otherwise have access to. In providing finance for our families to start their own business, we are removing a barrier and allowing them to reach their potential.
During our participant's year of producing carpets, they move through four different phases. The first two phases deal with immediate intervention and stabilization. During this time, the participants' children are returned to school and the family's finances are assessed and stabilized  A couple of months after commencing the project, participants move to phase three; Empowerment.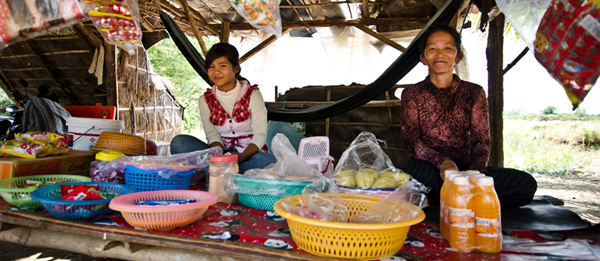 Phase 3: Empowerment
Families are given the skills training they need to develop their own business plans and to begin thinking about sustainable futures independent from producing carpets. Our staff works with each family to create a transition plan which helps them to become self-sufficient.
During this phase, education is the main focus. Financial literacy and micro-business management training is provided to the participants. We work closely with the families to provide the assistance they require to maximize their capacity for success, as well as their confidence.
Phase 4: Transition
Families are transitioned into a local business through micro finance  This phase aims to support families in their own businesses until they can become financially independent. Our staff maintain an active role in monitoring the businesses and the children's school attendance. During this phase, CfCs role transitions from one of facilitation to support.
–
This means more than just providing small loans for our families. We also equip them with skills, training and support necessary to succeed. Inability to manage finances is a key reason why many families become stuck in poverty. The micro enterprise programs run by Empowering Communities equate in the presence of skilled entrepreneurs within the community. This allows for the further sharing of skills, creation of jobs and the longevity of enterprise within Poipet.