Carpets for Communities is a not-for-profit social enterprise which aims to break the cycle of poverty through supporting education and sustainable development solutions.
Our aim is to empower mothers from the Poipet community to earn an income by producing hand-made, eco-friendly carpets. Helping these mothers to escape poverty enables their children, who were at risk of child labor and human trafficking, to return to school.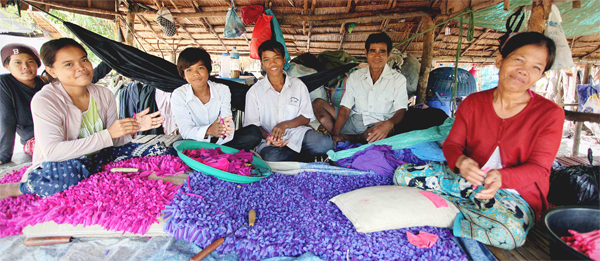 Our development program is divided in four phases. The first two phases are focused on immediate intervention and carpet production.
Phase 1: Immediate Intervention
Families are selected for the program based on a thorough needs analysis. This ensures we are reaching the poorest and most vulnerable families. Priority inclusion to families with children out of school and involved in earning money to support their families. Stage one involves teaching mothers to produce eco-friendly, hand-hooked carpets which are sold globally. This is a secure income-generating opportunity. Once entered into the program, children are returned to school within 48 hours.
Phase 2: Stabilisation
Families are able to raise their living standards through increased, fair, and stable income through carpets production. Children are able to attend school and gain the skills they need to expand their future opportunities.
—
A sustainable approach to development
Families who are selected for our program are employed for one year in order to produce carpets. As they stabilize their family situation in the first two phases, the continue to phase 3 and 4 in which we encourage and support them to set up their own independent micro-business through workshops, trainings and micro-loans.