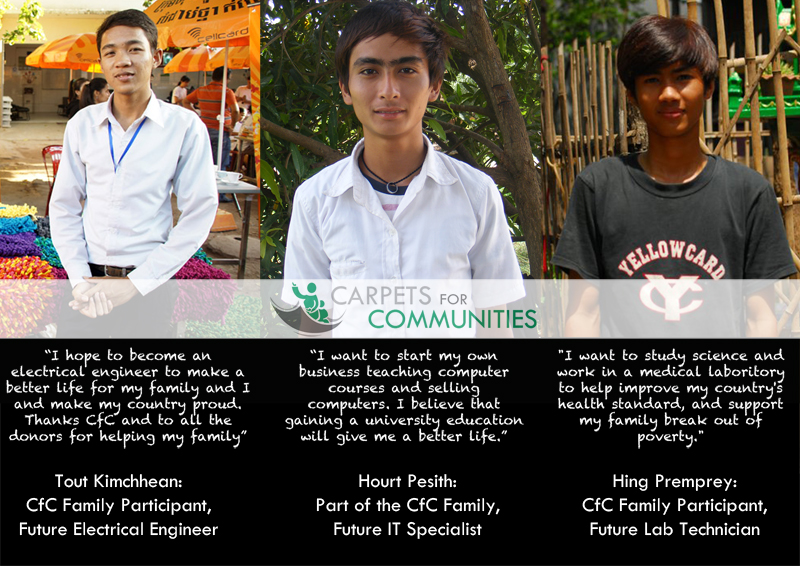 We believe in education as a catalyst for change in the fight against poverty.  In line with this and our belief that everyone deserves the opportunity to reach their potential, we offer university scholarships  to the graduating students of our families. The scholarship program aims to empower students to learn, improve, and create more opportunities for themselves and their communities.
In 2011, three entrepreneurial and ambitious school graduates; Tout Kimchhean, Hourt Pesith and Hing Premprey approached us and were the first young adolescents to receive a CFC Scholarship. In 2012, Hing Vuthy joined our scholarship program to study a Medical Laboratory major in Phnom Penh.
In order to support our scholarship students through university, we rely on individual sponsors who are dedicated to support our students to finish their education. University costs $1600 per year which includes tuition fee, basic living costs and other study costs such as books and materials. This is something that is otherwise out of reach for these young people despite the improvement in their family's financial situation through our carpet making and micro enterprise programs.
Increasing the number of educated people in Cambodia brings opportunities not just for individuals, but for entire communities.  We sincerely thank our current sponsors for the meaningful difference they have made in the lives of these inspirational young people and their communities.
Please consider sponsoring one of our scholarship students and help them to graduate from University and create opportunities for themselves and their families.
Find out more information: