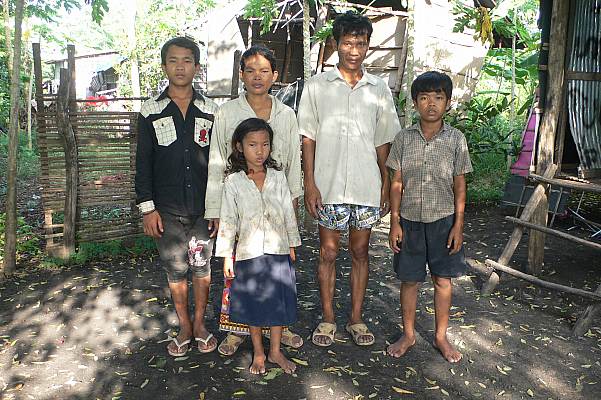 Touch Mom joined the project in 2008. She has five children. In the past, four of her children attended school only sporadically, and another dropped out completely to work as a cart-pusher for $1 per day. Currently, all the children between the ages of six and 15 attend school all the time because Touch Mom earns a good income making carpets.
Before she joined CfC, Touch Mom earned only $32.25 each month; now her average carpet-making income in 2010 is $78 per month. Additionally, her son aged more than 15, works as a cart-pusher to support the family and another son who stays in jail. With this and other problems, the family cannot cover their monthly expenses with Touch Mom's income, so she buys commodities on credit. She also has an outstanding loan from a moneylender she borrowed to cover a previous birthing expense. Presently, she owes 3,647 baht (about $117) with an interest rate of 12 percent per month.
Touch Mom and her family all live with poor health. She has difficulty breathing and her husband experiences great leg pain after he sits for a long time. Usually, she goes to the pharmacy for treatment, which costs between $1.60 and $2.30 each time. If she goes to the private hospital for treatment, each visit costs her $42.50.
Since joining CfC, Touch Mom's family eats enough, has better health, and her relationship with her husband has improved as well. Still, her family has continued health-care expenses, they still have debt, and she cannot say for certain that her children will reach their full potential.  Touch Mom wants to try to make more carpets to earn more money so that she can pay closer attention to her husband's health and so she can pay off her debt.