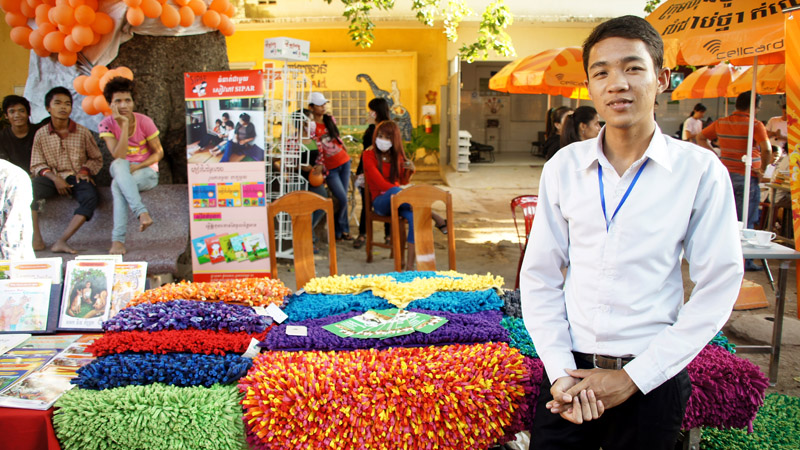 Saturday the 21th of January, Carpets for Communities joined the Mith Samlanh Fun Fair in Cambodia's capital city Phnom Penh. Using a local bus company to ship two bags full with fresh colored carpets, we came to the Fair to sell. But while we were in Phnom Penh we also had the opportunities to meet up with Tout Kimchhean, one of our scholarship students now attending university.
Tout Kimchheans family is on the Carpets for Communities program. In the past his mother produced carpets for CFC and now they have successfully transitioned into cricket farming. Meeting this family is a great and inspiring experience. Kimchheans father is a hospitable, friendly and humble man. When talking about Kimchhean his eyes lit up and as he demonstrated one of Kimchhean inventions, he looks so proud.
This invention Kimchhean made has become quite famous amongst CFCs followers. While his mother was making carpets and hand rolled T-shirts off cuts manually into the rolled cotton we make our carpets from, Kimchhean created a machine which rolls the cotton automatically. This piece of equipment, mainly made from scrap wood, saved his family a considerable amount of time while working for CFC. When we found out about this invention, it was clear that Kimchhean would be one of our first scholarship students.
Here at Carpets for Communities we were eager to know how the kid from the village was doing in Phnom Penh. While meeting we first discussed his progress in university and we were proven once again that Kimchhean is a serious, engaged and motivated student. While studying electrical engineering he works on repairing an old house to practice some of the skills he learns in school. Off course we were also interested in how Kimchhean experienced the crowded and busy capitol city. After a long talk we concluded happily that Phnom Penh is treating Kimchhean well, and that although he misses the quietness sometimes, he is having an amazing time in university.
During the market we got to know Kimchhean better, laughed together and sold carpets together. With his family working for CFC in the past, Kimchhean was very engaged in the selling process and told our customers many stories about how the carpets are handmade and about how working with CFC has helped him and his family.
Meeting families or students from our program is always very inspiring . Kimchhean is a positive and energetic young student with a bright future ahead of him. Thank all of you who have supported him in his first year in University and expect to hear more from him soon!