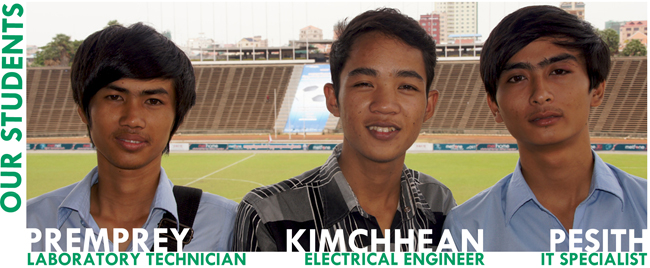 CfC is currently supporting 3 young, ambitious Cambodian students through University. These students are the sons of mothers we work with in Poipet. They come from poor backgrounds and therefore had no access to a tertiary education before joining our scholarship program. They are now well underway of becoming a laboratory technician, electrical engineer, and IT specialist.
Just 30 years ago, Cambodia was subject to one of the worst genocides in modern history. Some two million  people, one third of the country's population, was killed under the Khmer Rouge regime. Educated people were killed, and books burned in an attempt to create an agrarian society. Cambodia is still recovering from this terrible time in their history, and is currently in desperate need of young professionals to lead the redevelopment of their country. By being given the chance to attend University, our scholarship students have the change to make a positive contribution to Cambodia's progress.
Our students are now close to finishing their first year. In order to continue our scholarship program, we are now looking for sponsors who are dedicated to support our students to finish their education. University costs $2250 per year which includes tuition fee, basic living costs and other study costs such as books and materials. This is something that is out of reach for the position our families are in despite the increase in welfare they have received.
Sponsorships starts from $45 dollar per month. This sponsorship comes with an official recognition in the form of a signed sponsorship certificate and the opportunity to place you name or companies logo on our website. Additionally, you'll receive half year updates on your students progress in University.
Please consider becoming an official sponsor of Premprey, Kimchhean or Pesith. Sharing this page with your friends is easy. Just use the social media buttons below.